Following your initial contact, we always follow the process steps outlined below.
Step 1: Artist's Concepts
Our artist will work with you to develop your custom design by creating a pattern with your logo†, colors, and branding elements that fit seamlessly with your style. You can provide us with a specific logo/artwork or we can design one for you. Images uploaded as non-vector formats may result in an art charge prior to production.
Step 2: Finalizing Artwork
Within 48 hours we will present you with computer drawings of different pattern options in a custom artwork presentation. You then choose the design you like best or we can make adjustments to any of the designs until you are happy. Remember these renderings are viewed on computer screens and color variations occur. Every effort is made to match colors to the best of our ability during the process. In manufacturing textiles, slight variances in the finished product may occur. Reorders may also vary slightly in color. We'll make sure that they are as true to the proof as possible.
Step 3: Sample Strike Off
To guarantee that you will be 100% satisfied, we do a production proof called a "strike off" before we manufacture your order. This ensures that the colors and pattern are exactly what you anticipate. The strike off will be sent to you within 3 weeks. The production process takes around 12 weeks.
Step 4: Delivery
Once your order passes rigorous quality control procedures, we will ship your order and prepay freight, and add the freight charges to your invoice. We can also ship your order using your UPS or FedEx account number. Bendinger Neckwear is not responsible for freight carrier delays or losses.
Estimated Pricing
Since each design request is unique, pricing is based on each submission's own requirements. Below we have approximated our pricing. Estimated pricing for our custom neckties and scarves is based on fabric selection and the quantity of pieces for each item in your order. It is also subject to market prices at the time of your request.
You may view sample custom ties we have designed and manufactured in our Product Gallery.
Product

50-100 pieces

101-200 pieces

201+ pieces

Men's Ties

Men's Polyester Print

Not Available

$11.50

$10.50

Men's Silk Print

$17.00

$15.50

$14.00

Men's Polyester Woven

$15.00

$14.00

$13.00

Men's Silk Woven

$20.50

$18.50

$16.50

Scarves

35" Square Silk Print

Not Available

$32.00

$28.00

35" Square Polyester Print

Not Available

Not Available

$14.50

Oblong Silk Print

Not Available

$24.00

$21.75

8" x 62" or 10" x 62"

Oblong Polyester Print

Not Available

Not Available

$14.50

8" x 56" or 10" x 60"

Twilly Silk Print 2" x 32"

Not Available

Not Available

$13.00

Infinity Scarf Polyester Silk Print

Not Available

Not Available

$14.50

Accessories

Pocket Square Silk Print

Not Available

$11.00

$9.50

*Bow Tie Silk Print

$14.50

*Bow Tie Polyester

$9.00

*Bow Ties must be ordered with Men's Ties of the same design with a minimum of 25 pieces
Pricing for all printed designs is for 5 colors or less.
Custom Add-On Capabilities
For an additional cost above the base pricing estimated above, Bendinger Neckwear offers the following custom capabilities:
Extra-long ties
Bow ties: Woven or printed, silk, or polyester
Scarves: Printed, silk, or polyester
Pocket squares: Woven or printed, silk, or polyester
Custom packaging, including the addition of tissue and boxes
Custom accessories: Tie clips or bars, cufflinks, tie travel bag, dobbs kit
Custom woven keeper tag (see examples below)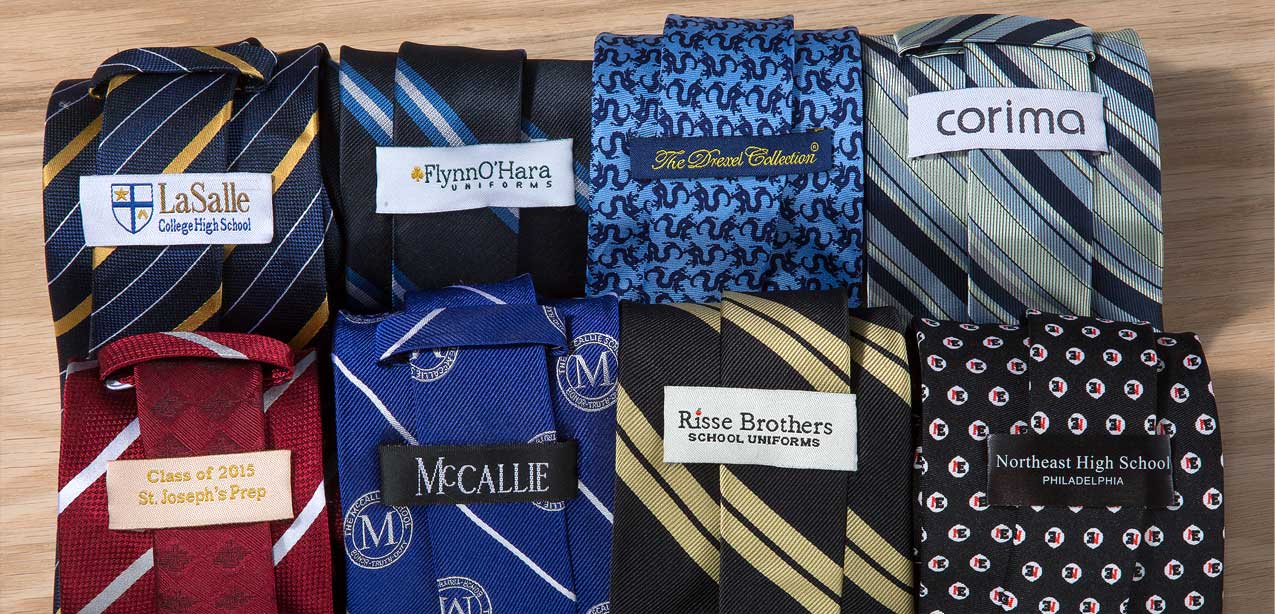 Examples of our custom keeper tags
---